Software
3 applications are supplied with the DL90 data logger::
| | | |
| --- | --- | --- |
| | DL90analysis | This is the main application allowing data to be downloaded from the DL90 after a race and analysed in great detail on the PC |
| | DL90monitor | This enables the output of the DL90 to be viewed in real-time on a PC. This is particularly useful for setting up the logger when you first install it in the car. |
| | DL90flash | This program allows the firmware in the logger to be updated as we release new features. |
All the software has been written to be straightforward to use. If you have used other windows applications, you will be analysing race data within half an hour or so. We have also spent a great deal of time making the software fast and efficient so you don't need a particularly powerful PC to use it - important for doing trackside work on a laptop. A 200Mhz Pentium machine with 64Mb of memory will provide reasonable performance even when analysing long races. Because of the amount of information available using the DL90 system, we would recommend a resolution of at least 800x600 and higher if possible to get the best out of the system. Finally, we also provide life long email support and free software and firmware updates - in the event a bug fix is required, it will normally be sorted out the same day by our resident software engineer.
The full version of the software is absolutely free to download and try. The installation is handles by the latest version of industry standard "Install Shield", so don't worry about cluttering up you hard drive - if you choose to uninstall, this is handled very cleanly without messing any windows settings up.
Click Here to Download The Latest Version Of The Software
THEN CLICK BACK IN YOUR BROWSER TO RETURN HERE
---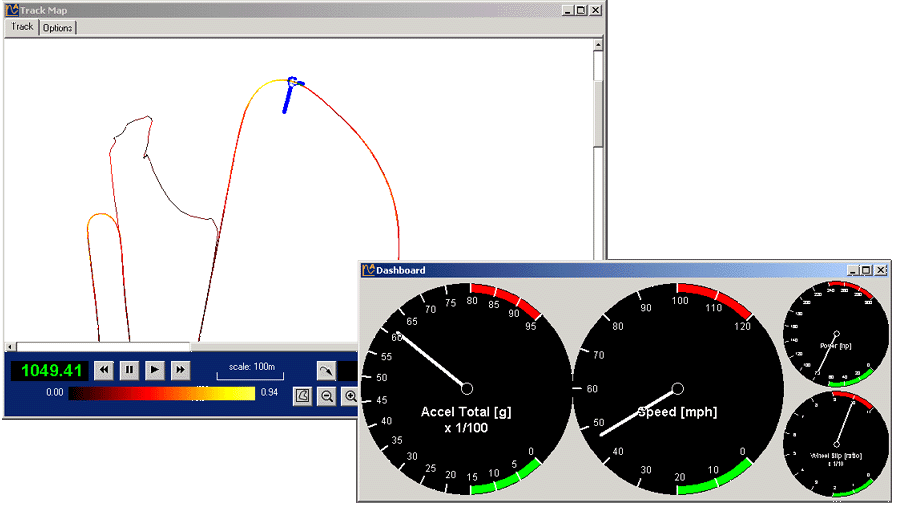 YOU MAY PRINT OUT THIS PAGE OR SCREEN SHOT PAGE BY CLICKING ON YOUR PRINT BUTTON
The DL90analysis program allows you to transfer the data logged during a race and analyse it. The key analysis functions are:
Draw a map of the track and then add information showing any variable including speed, cornering force or horse power. Because GPS is used, the track maps are very accurate. Track maps are absolutely vital for data logging as they are so much more intuitive that looking at a set of normal graphs.

Add track markers (like virtual optical beacons) and calculate lap times, sector times etc. This is one of the major benefits of using GPS, basically you don't have to set up optical track beacons around the track to get lap times anymore. Simply add as many track markers as you want and give them names e.g. 'Copps Corner Exit', then go to the measurements spreadsheet and calculate times between markers, speed changes between markers, etc. For more advanced analysis, statistical analysis is available including minimum, maximum and standard deviation. To look at a particular set of results in more detail, simple highlight them on the spreadsheet and click 'graph' to automatically generate a fully labeled graph. (Screenshot)

Replay the race in real time showing selected variables on a virtual dashboard. This feature makes the analysis easier to use than ever, and (we think) it is unique to our system. Basically, you can replay the race in real time on your PC using simple play, stop, fast forward, rewind and skip controls at the bottom of the window - it's just like using a tape player. Whilst you are playing back the race you can see your exact position as well as the cornering and acceleration forces on the track map. Whilst on the virtual dashboard, you can show up to 4 other user selectable variables such as speed, RPM, an analogue channel and maybe power. (Screenshot)

Plot data in any combinations on line graphs. While it is interesting to look at lap times and sector times, when you come to do fine analysis of your race, there is no substitute for looking at lot of graphs! The graphing routines have been especially developed for the DL90 analysis package and offer a very fast and flexible environment. You can plot up to 5 data sets on any one graph, each data set made up of any 2 variables for the X and Y axis. The user interface is very fast, and graph redraw times are incredibly short. This makes the whole system incredible 'useable' even with the maximum 2.5 million data points. If you tried that on Excel it would send your computer into meltdown!

Plot data on bar charts. As well as straightforward line graphs it is often useful to look at bar charts (histograms) for particular applications. As with the line graphs the whole system has been written with speed of use in mind. Up to 5 different constraints can be added to the plot making comparisons between laps very straightforward. (Screenshot)

Save, load, and export run data to your hard disk. As well as saving and loading your run data to disk, you can also have the option of saving and loading the complete analysis to disk. So next time you load the run, all your graphs, track markers and measurements are also loaded - you can start your analysis at the track side on the laptop, then continue it at home on the desktop without having to start again. There is also the option to export the run data to a spreadsheet, just in case you want to share the data electronically with someone who doesn't have the analysis software loaded.

Save and load car configuration to your hard disk. There are various options in the software that are specific to the car you are running - for example: gear ratios, vehicle mass, mounting angle.

Generate high quality hardcopies of all graphs. All the printed output from the DL90analysis software looks clear, concise and thoroughly professional using any of the windows installed printers. The graphs are printed in full colour where available.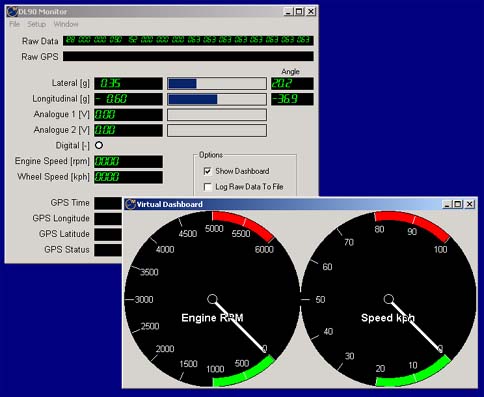 The DL90monitor program is particularly useful when setting the logger up, enabling you to check that you have connected the inputs correctly. It allows you to look at the output of the logger on a PC in real time. So what does this mean? Basically, install the logger in the car, plug the PC into the logger and you can view a virtual dashboard showing engine speed, vehicle speed, accelerations, voltage inputs, even the GPS coordinate information. There is also the provision to log very long runs to the hard disk if required.

The DL90flash program allows the firmware of the logger itself to be upgraded. Because the processor in the DL90 uses flash memory, it can be periodically upgraded as Race Technology releases upgrades which will be available absolutely free - we will inform customers of updates by email and attach the new firmware file to the email. If you have any features that you would like to see added to the logger, please visit the DL90 support page - we are always pleased to get customer feedback!